Inspired by Hanslemann's tool list, and realizing that if my hard drive fails I want to have links to all the tools I need, I have started my own tool list. This page will probably change all the time.
Productivity Apps
Evernote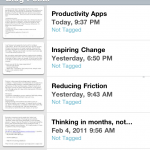 All day long, I find myself creating little notes. Notepad was the tool of choice, but now it is Evernote. In fact, this blog post was first written in Evernote on my Mac, proof read on my iPhone, and published from my work PC. That's the power of Evernote. It's features are simple yet powerful.
Note sync between devices
Plain text, rich text, image, and audio notes are all supported
Searching through piles of notes
There are a bunch more features I don't use, but if you want to clear the *.txt clutter off your desktop, this is a great app.
Remember the Milk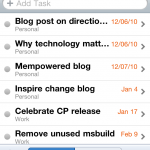 RTM is a task manager. What separates it from all other task managers is the simplicity and speed. By simply typing a sentence, you can create a new task that has a due date, tags, etc.
"Schedule next sprint planning tomorrow #cp"
RTM also has a lot of keyboard shortcuts. In general, it is the fastest task manager I have ever used. For a fee, you can get it on the iPhone with all the features unlocked.
Word of warning, if you don't sit down and learn how it works, you won't like it. The keyboard shortcuts and semantics are super important.
LastPass
LastPass saves me more time and headaches than any other app I use. It is a secure password management app. It has a browser extension for IE, Firefox, and Chrome and works on Mac and Windows. Simple and easy if you are looking for a cross platform password management app.
Reeder for iPhone/Google Reader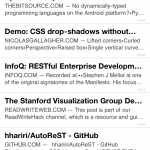 Part of my job is keeping up on technology (at least part of keeping my job). The next two apps focus on managing the crazy amount of content produced on the internet. Reeder for iPhone syncs with my Google Reader account. That way, on the go I can be reading a few blog posts here and there. When I am not mobile, I just use Google Reader.
Instapaper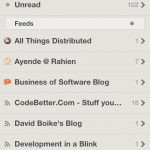 I get emailed a lot of articles and also run across a lot of articles while searching the internets. Unfortunately, the best time for me to read those articles is at night or while flying. Instapaper to the rescue. It saves webpages or emails for offline viewing, while also doing a few things like stripping ads and such.
I recommend installing the Instachrome extension (not the actual Instapaper extension). Obviously, I have it installed on my iPhone as well.
What I use everyday
Amazing tools
Web Development must haves
Firebug - If I interview a web developer and they don't know what Firebug is, they are no longer interviewing for web developer. Just plain developer. Get it.
YSlow - If I interview a web developer that uses YSlow, I am thinking this guy cares a lot about the performance of his website.
Wireshark - When your so frustrated with SOAP you almost decide to convert everything to REST, Wireshark to the rescue. It's how you determine what is really going on
.NET Development
Yes, you can run it on your desktop
MySQL - I am amazed at how few developers run this on their desktop. It works and it is super easy to test out ideas without effecting anyone.
Memcached, Windows Port - Windows port of Memcached. Great for testing out theories right on your local machine.